Pop'Harpe : the association

A solid team and a unifying project…

Pop'harpe first came into existence in 2010 in France, in Ivry-sur-Seine near Paris, around an original project led by the music conservatoire harp teacher and some parents.
Being a non-profit association, Pop'Harpe's aim is to make the practice of the harp easier to reach for everyone, especially through the original models of cardboard harps.
In a few years' time, the Pop'Harpe project grew up and now it overpasses the mere process of instrument making: it's a way of thinking, a comprehensive pedagogical approach, a movement, but is it also an active network of exchange and mutual aid among musicians from all levels and horizons, named "Harpistes Solidaires" ("United Harpists"), led by a dynamic association which counts up to nearly 300 members, of whom twenty-or-so are active members.
Pop'Harpe intervenes throughout the whole French territory, and more and more often abroad too, for specific projects.
Membership here
Donate
Excerpts from the association's statutes

The association aims to:
support the innovation of low-cost instruments, affordable by everyone, and expand the practice and the harp-making thanks to cardboard popharps and ancient harps;
promote a relationship with music based on simplicity, experimentation, exchange and creation;
develop collaborative pedagogical projects allowing the appropriation of musical languages and the understanding of instrumental craftsmanship;
develop artistic projects.
These objective are to be reached through:
organizing continuing education training courses;
organizing harp-making training courses and assembling workshops;
organizing musical practice training courses;
producing musical instrument in kit form;
collaborating with schools, integration institutes and research centers;
developing musical creation;
developing amateur ensemble musical practice;
publishing pedagogical repertoire;
participating in competitions, concerts and other events and public shows;
any other kind of service or object contributing to the achievement of the association's aims.
The assocation's board
Graciela Lacoste, President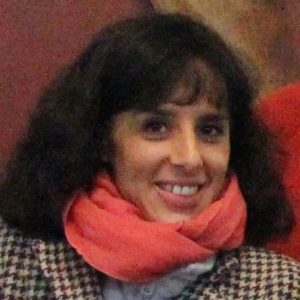 It is as a parent that Graciela joined up the Pop'Harpe adventure in 2016. She has been contaminated by the passion and energy of Véronique, her son's harp teacher, and Pascal, who offered an instrument, usually expensive, at an affordable price, and which light weight associated to an astounding sound made it particularly interesting. Being herself an amateur violinist loving to bring her instrument everywhere, Graciela was obviously thrilled that her son could bring his harp around too.
"I engaged in the association Pop'Harpe because I wanted to experience along the project of sharing, exchanging and making inspiring encounters!"
Elizabeth Cherquefosse-Gallou, Vice President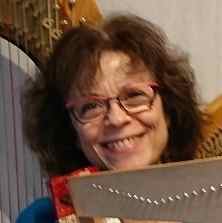 Harpist, First Prize of the Conservatoire National de Paris, classical harp teacher, Elizabeth commits to education in the music conservatoires of Sucy-en-Brie and Roissy-en-Brie where she has been teaching for the last 30 years. She wrote a harp book La magie de la harpe et le monde des lutins (ed. Billaudot, 2013).
In an ongoing effort to renew and to enrich her pedagogy, Elizabeth multiplies her meetings with harpist partners, and discovers the association Pop'Harpe and its cardboard popharps in 2016. The idea of this light harp, easily portable, along with its very surprising sound and its price defying all competition, opens up new horizons for a broadened pedagogy. Since then, she embraces the association's project and is actively involved.
Christian Mille, Treasurer

Christian Mille is currently the treasurer of Pop'Harpe which budget grows faster and faster at the same pace as the success and the renown of these "cardboard popharps".
As an amateur flutist, Christian knows all the benefits musical practice provides for everyone. Naturally, he is enchanted by the notion of an easy financial access for an instrument such as the harp: the cost is not an obstacle anymore to start the harp!
Christian Mille used to work in the field of business strategy as a consultant and as a teacher. Almost retired in the present, he is still an active member of a young businesses support association, but he is also quite involved in "Bibliothèques sans Frontières" (Libraries Without Borders) and in Pop'Harpe indeed.
Joëlle Le Liepvre, Vice Treasurer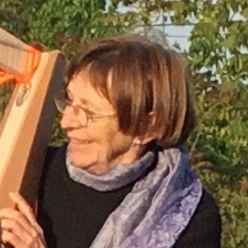 After having studied the piano and the classical guitar, Joëlle, school teacher, discovered the harp which she studied with Odette Le Dentu.
In 2016, Joëlle discovers Pop'Harpe and the instruments conceived by Pascal Bernard and Véronique Musson-Gonneaud and she gets involved in the association, with which she shares and supports the same values, the solidarity projects in particular. Since then, she gets enriched by fascinating encounters, everywhere she goes.
Joëlle made two cardboard harps during the Festival des Savoirs et des Arts organized by ATD Quart Monde in Poligny (Jura, France), and since then she offers musical entertainment with these harps. Joëlle, as a volunteer, also supervises the courses having a solidarity vocation, especially with women and men in social rehabilitation.
Natacha Nohilé, Secretary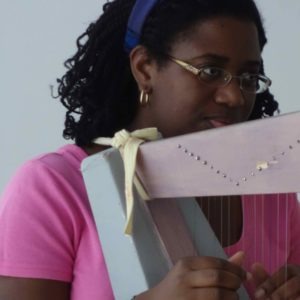 Amateur harpist, Natacha started playing music as an adult. She discovered the cardboard popharps during a conversation with a professional harpist. Invited to a meeting of the association, she was seduced by the creative atmosphere that reigned and she joined up in 2013.