The manufactoring courses
Making your own harp…
2/3 days coursses
Objectives
Learning the acoustical and physical principles of a harp through its making …
Understanding the different steps of the manufacturing and the challenges that arise to better tame with the instrument
Learn the basics of servicing a pin and to replacing a string
Discover the medieval diatonic harps and their history
Learn how to play halftones without any pedals or levers
Making your own harp, small, light and customisable
Learn how to skirt difficulties and realise things that seemed undoable at first…
Learn how to be autonomous with the servicing of this different kind of harp
Audience
Your are a music lover or a professional, a student's parent or a harpist yourself, beginner or advanced…

The project interests you and you wish to learn numerous things about the harp while building it…

Then the course « Popharps in cardboard paper: from manufacturing to playing » is for you!

Children cannot do the course by themselves, but they can accompany their parents for free.

Disabled persons are welcomed during the course, there is no fee for the person accompanying them.

You must be a member of the association to participate.​
Pricing
To make our course accessible to everybody, we calculate our prices to the fairest.
If you have financial difficulties, contact us and we might be able to help you
Where and when
Nous sommes basés à Ivry-sur-Seine à côté de Paris mais nous organisons des stages dans toute la France et à l'étranger.

We are based in France, at Ivry-sur-Seine, near Paris, but we organise course in the whole of France and abroad.
How to apply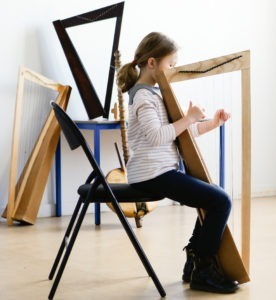 Playing the cardboard « popharpe »…
Discovering Day
Depending on the request and the availabilities, the « manufacturing courses » can be extended with one more day to discover how to play the Popharpe : See Calendar
The music courses
We are organising music courses. Open to anybody regardless of the level, they are leaded by well-knowned performers and teachers and approach a specific kind of music playing.
United harpists
In 2017, Pop'harpe launched the « United harpists » to help bring the harp where it couldn't reach before.
These projects bring harps and harpists where you don't expect them. And of course, there are full of music, mutual aid and beautiful encounters!
But, on top of everything, these projects are about the cultural exchange, the discovery of new practice and the human experience !
Since August 2017, we are taking part in the ATD Quart-Monde project, through the Festival des Savoirs et des Arts in Poligny (Jura).
In 2018 we launched a long term project to exchange with the Paraguay and the association Crear in Libertad which works around deprived areas of Asuncion.
We also work with very low-income people through courses tailored specifically
To follow the United harpists projects, click here.
Music and creativity…
For an inclusive pedagogy…
First of all, Pop'harpe is a pedagogical project. From manufacturing the instrument to playing it, what interests us is to give the keys and make music practice available to as many people as possible.
Cardboard harps are basic instruments and mostly diatonic ones. Playing a more advanced and complex repertoire than what is normally possible with a diatonic scale imply finding creative solutions. These solutions have and will always exist. They have been used and developed by harpists throughout History. They simply have been, for some, forgotten since…
For example, on the cardboard harp, halftones, and more specifically sharps, are obtained with a technique from the 15th century, by shortening the string with a pressure of the nail. Another solution is to transcribe or improvise around the repertoire, like every musicians across the world are doing.
For this purpose, we need to understand the language of the piece we are playing, its writing, not necessarily analysing it with scholarly methods, but feeling it.
These methods have disappeared from conventional music teaching, especially in music schools, and though they are gradually coming back, they sometimes leave the teacher without the right tools.
Playing on a cardboard harp gives us the opportunity to discover again these methods. We are always on a development and learning path so, step by step, we are creating a catalogue with specifically written pieces, technical methods, shared experiences… that will be soon be available.
Supporting the professional ensemble
In order to experiment with the cardboard paper harps, knowing all their possibilities and limits, Pop'harpe supports professional ensembles : the PopHarpeTrio (creations and transcriptions) and the duo ArpaSemplice (Medieval and 16th century music, with cardboard paper harp, medieval harp with braypins and voice.
Encouraging the musical creation
Many composers are working on the creation of pieces for cardboard paper harps' ensembles. Among them:  Hélène Breschand, Damien Charron, Sébastien Béranger, Alex Nante.
These new pieces will be soon premiered by the PopHarpeTrio